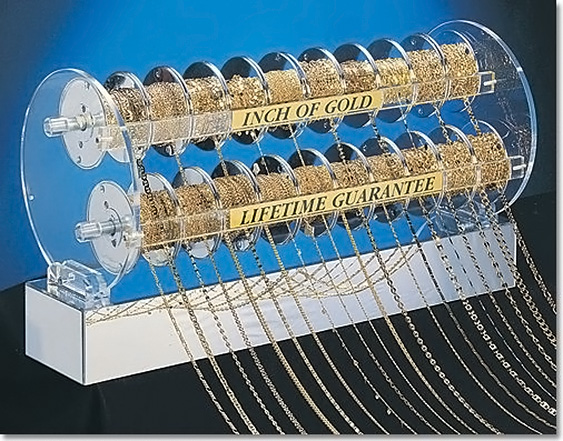 Established in 1982, Inch Of Gold, Inc. is the leading B2B wholesale fashion jewelry chain company that originated the unique concept of selling chains "by the inch." We offer a wide selection of chain presented on spools in an attractive counter top display fixture (as seen in photos). Offer an array of chain designs, easily assembled in any size right before your customers eyes. Now your customers can walk away with a perfect fitting chain that they will love. Custom make necklaces, bracelets, anklets, belly chains, chokers, children sizes and much more. Assembling the chains is simple and we also supply the clasps to go with our chain assortment.
Many companies that have attempted to copy us over the years have come and gone, but we remain the leader in our niche of the jewelry industry for 30 plus years. This is especially important when you give our Free Unconditional Lifetime Guarantee with our chains. We stand behind our jewelry 100% and the guarantee that we offer is just one of the many benefits that you will enjoy when dealing with Inch Of Gold, Inc.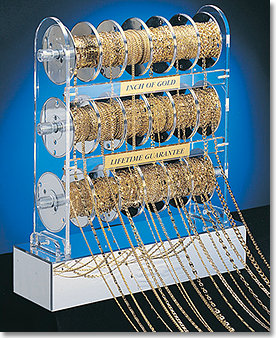 If you are considering getting into the retail fashion jewelry chain business, you need to ask yourself two important questions:
Would you rather offer a variety of chain that you can easily make in absolutely any length people want, or standard cookie cutter size pre-made chains that never fit quite right?
Would you rather deal directly with the original company that invented the Inch Of Gold concept in 1982, or a copycat company that does not totally believe in this concept, also sells pre-made chains and may not be around long?
We invented the
Inch Of Gold
concept and completely specialize in offering a variety of fashion jewelry chain "by the inch" on spools. If you are interested in our proven concept, contact us today.
Why Should We Be Your Wholesale Jewelry Chain Supplier?
| | |
| --- | --- |
| • | More than 30 million feet of chain sold and counting |
| • | Our outstanding reputation is unmatched |
| • | Our profitable concept of selling chain by the inch is a proven winner |
| • | We are the original and only real Inch Of Gold, Inc. |
| • | We offer a wide assortment of spooled chain, clasps and charms |
| • | Excellent quality backed with a written guarantee is crucial |
| • | We offer the most beautiful chain displays in the business |
| • | A knowledgeable and courteous staff is here to assist you |
| • | Not a franchise - no fees |
| • | Toll-free customer service support |
| • | On-site set up and training for multi-location retailers is offered |
| • | We specialize exclusively in chain on spools sold by the inch |
| • | The strong Inch Of Gold brand-name recognition helps you sell |
| • | Our large inventory insures your orders are shipped immediately |
| • | ... we could go on, but we would rather prove it to you! |
Listed with the Jewelers Board of Trade